Have you ever done or seen something so incredible and awesome but no one else was around to see? It's so annoying! We all have moments where we do the perfect throw, or pull off some awesome little stunt, or we see something that's amazing and once in a lifetime but no one was there and no one believes you! It sucks. But thanks to the internet and the fact everyone on Earth has a camera in their pocket there are more and more times when those rare and awesome moments are captured. Well, we went out and found some of the coolest and funniest clips of those awesome perfectly timed moments. Enjoy!
1. He could have practiced this for a month and still not pulled it off on purpose
Cricket player Andrew Strauss accidentally destroys his own sunglasses.
2. This guy wasn't a second too early to be on the receiving end of this
3. This is such a well-timed little goof
It looks like she's blowing the team away. I love the little hop at the end.
4. What an amazing flip!
Girl takes a tumble
5. What a catch!
6. This truck hits a cyclist at the exact moment a mattress falls out and it leads to a happy ending!
Car hits cyclist and leaves a mattress to cushion the fall
7. A good friend is always there for you
8. Boom! Headshot!
Boom. Headshot.
9. This bird gets completely annihilated by this fast ball. A magician couldn't make it disappear faster.
Randy Johnson hits a bird with his fastball
10. This is a one in a million shot!
Sergio Ramos hits television camera at the top of the stadium
11. "GIVE ME YOUR HAT!" "OKAY!"
Here is a re-cap from the race.
12. This is the first time golf has ever been interesting!
13. Sometimes you're trying to pull off a stunt and the world beats you to it
Awesome Skating Video
14. This clip is a great example of having a camera in the right place at the right time to capture something breathe taking
Wow!!!!!, Did you see that? Amazing.....Amaz...AHHHHHHH!!! RUN AWAY RUN AWAY
15. Warning, dog-lovers be prepared for a heart attack! But don't worry, no dogs are harmed!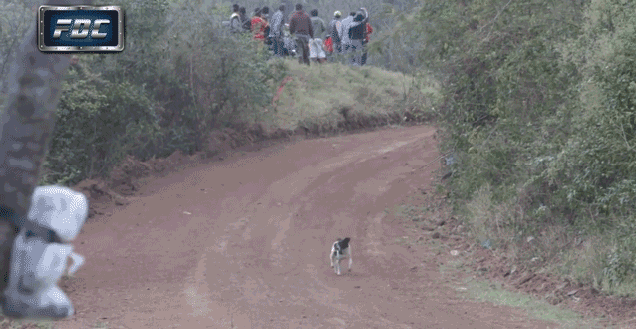 16. It's like someone was waiting to turn the water on at just the right moment
I wasn't expecting that.
17. This is one of those moments you could never convince your friends happened
18. Oof! The timing is perfect to laugh at, but is terrible for those in the actual clip
The Nutcracker
19. This frog gets out at just the right time!
NOPE
20. Where the hell does this ref come from!?